As Domestic Violence Awareness month approaches, Plastic Surgeon, Ben Talei, M.D. and Nathan Talei Esq. have announced their plan to Drive Against Domestic Violence in an effort to raise awareness and support the cause and initiatives of the National Coalition Against Domestic Violence (NCADV) and the American Academy of Facial Plastic & Reconstructive Surgery's Face to Face program.
KNAM Media had a pleasure to support the Drive Against Domestic Violence project by wrapping a beautiful mini copper with a vehicle vinyl wrap to get their cause noticed on the road. This is the smallest we could do to support such a great initiative!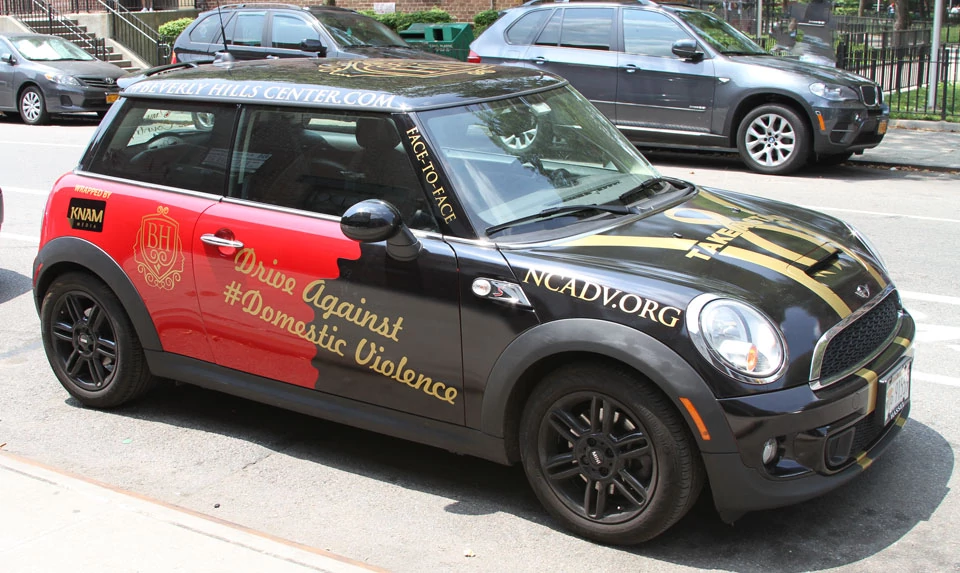 The vinyl wrap displays "Drive Against #Domestic Violence" along the two sides of the vehicle, a map of their road trip on the back, and the words "Take a Stand" across the front.
Dr. Ben Talei and Nathan Talei will be driving from New York City to Los Angeles in their Drive Against Domestic Violence, with 100% of the proceeds going to the NCADV.
They ask for everyone to get involved by donating or by offering their own ideas for sponsorship or spreading awareness by emailing [email protected].
Please donate whatever you can by using the donation box on this page:
https://beverlyhillscenter.com/driveagainstdomesticviolence.html
For every 5K donated, Dr. Ben Talei and Nathan Talei will do a sky dive somewhere in the United States during the drive.
They will be driving cross country from September 29 (leaving NYC) to October 18 in (arriving in LA).
Stops along the way:
NYC –> Philadelphia –> Washington DC –> Charleston –> Savannah –> Jacksonville –> MIAMI –> Orlando –> Tallahassee –> New Orleans –> AUSTIN (city limits) –> Dallas –> Oklahoma City –> Santa Fe –> Lake Powell –> Grand Canyon –> Las Vegas –> LA
It's a good thing to do good things! Be a part of it!