Nothing could be easier. You create a design. You send it to KNAM Media. We print it on crystal clear vinyl with all your colors, shapes, and fonts. We deliver it to you or we install it for you. 
You have a new sign in your window to advertise anything you want. From your company name and logo to this month's special, clear window clings are the perfect way to put a message on your front door, front windows, or even side windows.
There's no adhesive, so there's no residue. Because they cling to windows, they can be removed and reused many times.
No Limit to Your Imagination
Clear window clings are hugely popular for putting up new signs that look a lot classier than a hand-written sign. Most recently, our clients called us to make signs that talked about wearing masks, social distancing, and their own cleaning methods. Best of all, when the sign isn't needed any more, it can be taken down without the need for a scraper or an expert. 
The vinyl is printed with anything you want in any color you want. That means if the goal is to put the winner of a kid's coloring contest, all you have to do is send it to us and we'll print it out.
One use that has become very popular is to print motivational quotes and put them on the glass walls and doors of conference rooms and in hallways. This is a great way to remind your staff of what's important and keep positive thoughts flowing all day. And it's better than a cheesy poster of a kitten that says, "Hang in there."
Have you added free Wi-Fi to your business?
Are you now offering a new salon service?
Does your store carry a new line of products? 
You can get a small clear window cling that tells the story. Even if your windows already have a permanent decal, your clear window cling can be put in any open space.
It's also a great way to welcome new members, employees, or tenants.
Our window clings can be designed to go on the inside or outside of your windows. You can control who has access to the sign. The inside signs are very popular for shops that want to promote seasonal sales and specials. 
The outside clings are excellent to put on windows that are hard to access from the inside. Some shops have lots of items or cabinets right up to the windows. Outside window clings can be put on easily, letting you use that space to market your business.
Call KNAM Media at 347-389-5626. Our team of experts will help you decide what you need and want. We'll take your graphics and send you a full-color, detailed mock up. You can see what you're going to get before we start printing. In a few days, we'll have your cling printed and delivered anywhere in the New York City – New Jersey – Connecticut area.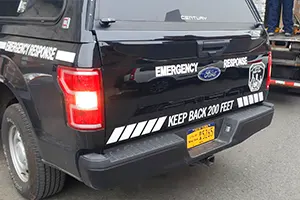 If your vehicle is making deliveries at night or your business is open at night, it can be great to have a logo, phone number, and/or web address on the side of your vehicle.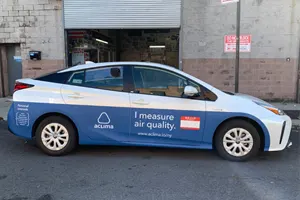 Renting or Leasing a Vehicle? Use your personal vehicle for business during the week? Magnetic decals are the perfect choice for marketing your business on your vehicle.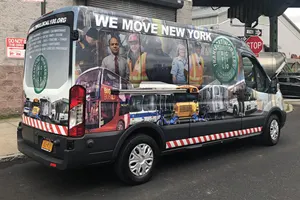 Perforated window graphics are perfect for allowing a continuation of a design that's not the body of the vehicle or for creating a fascinating detail.