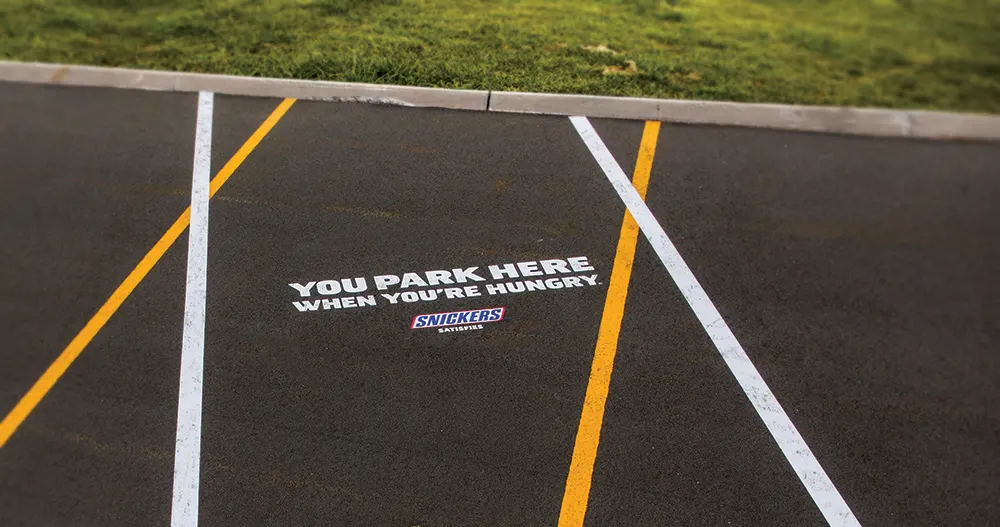 Since the coronavirus hit, people have been paying a lot more attention to sidewalks. Chalk drawings and messages have been an important part of everyone's efforts to remain cheerful and thank those who are taking care of us.
At KNAM Media, we've known about the power of sidewalks for decades. We've been putting sidewalk graphics down for stores, restaurants, bars, transit companies, and more all over the tri-state area.
How to Use Sidewalk Graphics
Sidewalk graphics are surprisingly effective. While many people don't look too far above their line of sight, we're trained to see what's in front of us on the ground. This is how we avoid tripping as we walk. 
Using sidewalk graphics, you take advantage of this unconscious activity. Signs on the ground make the brain pause to try to understand if the object is a trip hazard. In that moment, the brain is also reading the message or interpreting the images.
You can use sidewalk graphics to draw attention to a sale, direct your customers to a specific door, or simply plant the idea that they need what you're selling.
For example, if you have a pizzeria, some images of pizza or messages like, "Are you hungry?" will spark a person's hunger.
If you want everyone to know that you have the latest hot basketball sneaker, you can put messages on the sidewalk in front of your store. Even if they don't look up to see window signs, they'll see the ones on the ground.
Malls and amusement parks are great places for sidewalk graphics. Use them to inspire sales, direct people to certain places, or keep the rules in front of guests.
Things like social distancing and mandatory masks can be expressed with sidewalk signs. This gives you a chance to tell people what to expect without losing valuable marketing space in windows and on walls. 
This is also a great place to direct people through certain doors or to share other important messages.
Sidewalk graphics are awesome for suggestive selling. As you walk into the grocery store, a line of images of fruit on the sidewalk guide you in. It's almost guaranteed that you'll leave with fruit. 
As a business owner, you're virtually guaranteed to sell more of anything you put on the sidewalk.
Use these images to upsell products. For example, if you sell mobile phone services, you can include sidewalk graphics that promote your unlimited data plans.
Sidewalk graphics from KNAM Media are extremely durable. Depending on traffic volumes they can last for years. 
Our team prints and installs them at any location in the New York City – New Jersey – Connecticut tri-state area. We make sure they look great and cover the sidewalk perfectly.
Whether you want to cover an entire sidewalk or just put small signs out, we take care of everything. Our ability to do large printing makes our sidewalk graphics ideal for any size space. 
Contact KNAM Media today for the best in sidewalk graphics and service.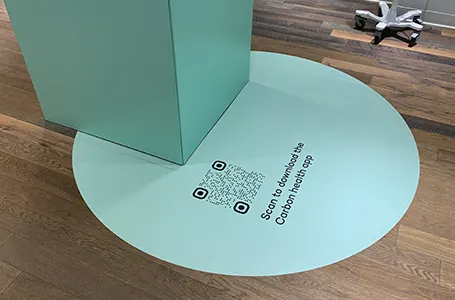 No matter what the message is, KNAM Media can put removable floor graphics down that will amaze everyone that sees them.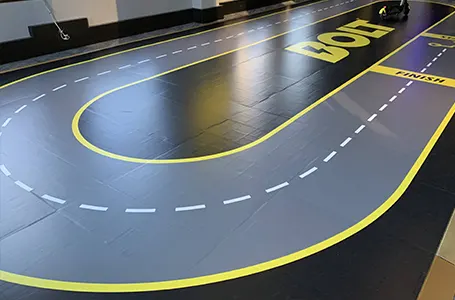 There are images on the walls, some on the ceiling, but too few businesses think to turn the dance floor into a place to share a message.
FLOOR GRAPHICS INSTALLATION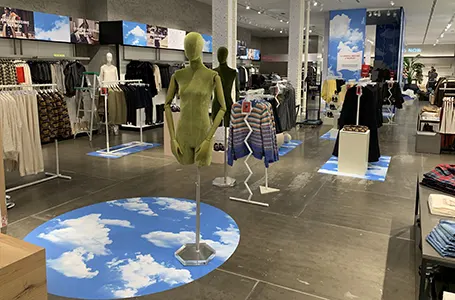 We will make sure that the floor surface is properly prepped, that the graphic is laid out correctly, and that the graphic is installed perfectly.